Layering Stamps Squirrel Colours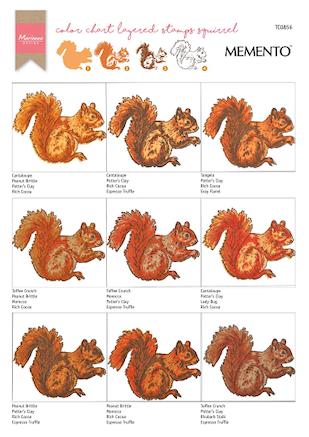 Marianne Design layered stamps are designed to create overprinted images for cardmaking and crafts. The stamps are clear so it's easy to see where to position the next layer as you build up the design.
Working from light colours to dark colours, stamp the back image first and then overprint this design using the other stamps and darker inks.
Download and print this helpful colour chart from Marianne Design to see the different looks that can be created by changing the ink pads. There's also practise sheets for you to duplicate the effects and experiment with your own colour combos.
For colours that blend through each other work with a fast drying 'dye' ink pad such as Tsukineko Memento as used here.
For more opaque and solid colour effects work with a slower drying 'pigment' ink pad.
Demonstration videos;
Layered Stamping - Masking your Stamps
Layered Stamping - Creating backgrounds with stamps
For more Layered Stamps colour charts visit the Marianne Design website.
Products Featured