This little wool stocking is quick and easy to stitch up and looks perfect with Eline's cute penguin from the 'Snow Friends' set. In the original image he was wearing a Santa hat which wouldn't have shown up against my red stocking, so I simply swapped it for a bobble hat from one of the other images in the set. I love how easy it is to change elements around with digi stamps!
Step 1
Prepare a pattern by drawing a simple stocking shape. I traced mine free hand but there are loads on the internet should you prefer.
Step 2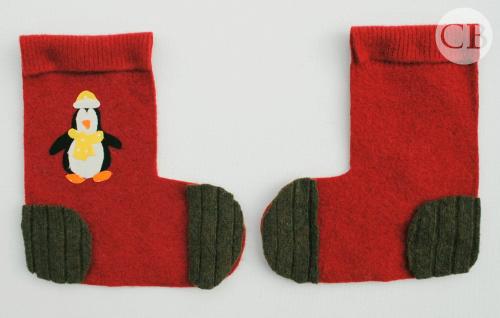 Cut two stocking pieces from your felted sweater. Felted wool sweaters are fantastic to work with as the cut edges don't fray and they feel so soft! Should you not have a jumper to shrink/felt then simply use prefelted merino wool fleece for an equally luxurious finish.
Step 3
Cut heel and toe pieces in a contrasting colour and tack into place.
Step 4

Next resize the penguin digi stamp so that it is in proportion with your stocking front. Then trace onto the Bondaweb, and iron onto the reverse side of your fabric scraps.
Step 5

Machine around the applique pieces in black thread. Go around each piece at least twice to give the embroidery a 'sketch-like' feel. Don't worry if your sewing is a bit wobbly as this adds to the overall effect of raw edge applique!
Step 6

Attach a tiny white button as the 'bobble' on his hat. Neatly fasten and trim any loose threads.
Step 7

Using a length of contrasting embroidery floss, blanket stitch around the toe and heel pieces.
Step 8

Pin stocking with right sides facing and then machine stitch through all layers.
Step 9
Turn through to right side and gently press, then just wait for Father Christmas to pay a visit and fill it full of little goodies!