Do you enjoy using gorgeous metallic coloured mist sprays on your projects? Why not make your own with Maya Gold paint, water and a spray bottle. Use the colours straight from the pots or mix them together to create your own unique colours.
Viva Decor's Maya Gold is a silky gloss effect, water based paint with an intensive metallic colour depth. There are 27 Maya Gold colours to choose from.
Instructions
Put 3 teaspoons of Maya Gold paint into a 100ml spray bottle with water and shake well. You now have a spray that delivers a little colour and a lot of glitter and shine with the wonderful Mayan Gold lustre!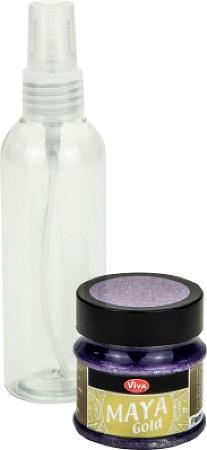 By varying the amount of water you use, the coloured sprays can be completely customised, from transparent to opaque, so you get the effects just the way you like them most. For example, for a more opaque spray, add less water, by only half filling the bottle with water.
Tip - replace the protective film back on the pot and close the jars of Maya Gold immediately after use to prevent drying out.
Technique
By spraying at different distances to the surface, you will get different results, as shown below. These examples all use the same magenta colour mist and vary from close up spraying on the left to more distant spraying on the right. By slowly pushing the spray button, you will get some drops. Push the spray button once to get only spray mist. Spray close to the surface for a more intense and dense effect and further away to get a more airy splash effect with a softer colour.


As this is a spray, it is advisable to protect your surfaces and other objects that are close to you whilst you spray. Maybe use an old cardboard box large enough to hold your papers and designate this as your reusable spraying booth.
Use different coloured Maya Gold Spray Mists and paper towels, sponges, stencils and masks to create very nice background papers.
Example 1 below shows a soft colour lift effect by gently dabbing the wet paint with paper towels.
Example 2 shows the colours sprayed from a distance and left to dry. Droplets of colour have then been added by removing the cap from the bottle and shaking or tapping the colour from the tube onto the surface.


The same three colours have been used for both of these examples - Maya Gold Magenta, Turquoise and Apple Green.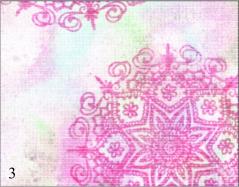 When the paper is dry you can further decorate it for use in your card making, scrapbook and home decor projects.
Example 3 shows the paper stamped using Paper Soft Color.
IDEA - Consider making your own paper or acetate masks and stencils with your die cutting shapes.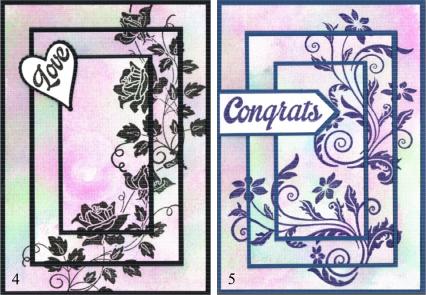 With the two cards above, (examples 4 & 5) the papers have been sprayed and then lightly dabbed with a paper towel. When dry they were stamped using Tsukineko ink pads.
These are a just few ways to use the spray mists. All of the examples shown have been worked on white paper. You can, of course, change the papers, paint colours, use canvas or a layer of gesso application for spraying, the spray options are endless!
Much Craft Fun!
Translated with permission from the original Dutch article by Gerry van der Velden for Kippers Hobby by Kim MacFarlane.