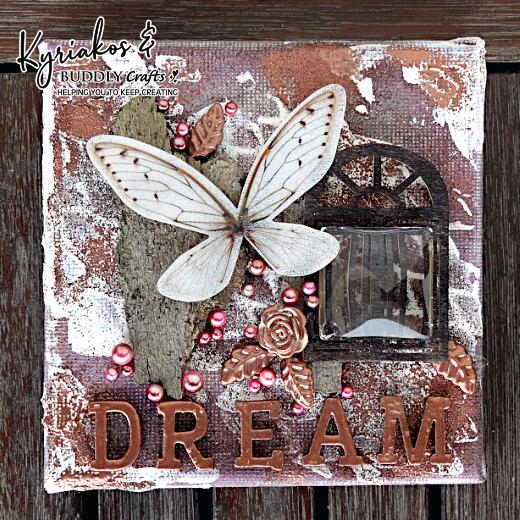 Enjoy making a mixed media canvas embellished with wooden embellishments, beads and copper embossed details combined with some pieces of tree bark found on a walk.

Cover the small canvas surface with the VersaFine CLAIR Pinecone and add shades with the Chianti ink pads.

Use the stencil and the structure paste to partially cover the canvas surface.

Sprinkle some copper embossing powder onto the wet paste and heat set to add details.

Place the mesh stencil again and add more Pinecone colour on the top of the structure paste. Note that the paste should be completely dry before proceeding to this step.

Press the pearl embellishments and the wooden letters on the surface of the VersaMark ink pad, cover with copper embossing powder and heat set. Take care to not overheat the pearl embellishments.

Cover the wooden window with the VersaFine CLAIR Pinecone colour.

Press the reverse side of a medium size acetate butterfly on the StazOn PIGMENT ink pad. Let it set for a few seconds and repeat a couple more times.

Set the tree bark, the wooden letters and the window on the canvas. Add a drop of glue on each corner of the glass square dome and set it on the window.

Continue by adding the rest of the embellishments and the butterfly.