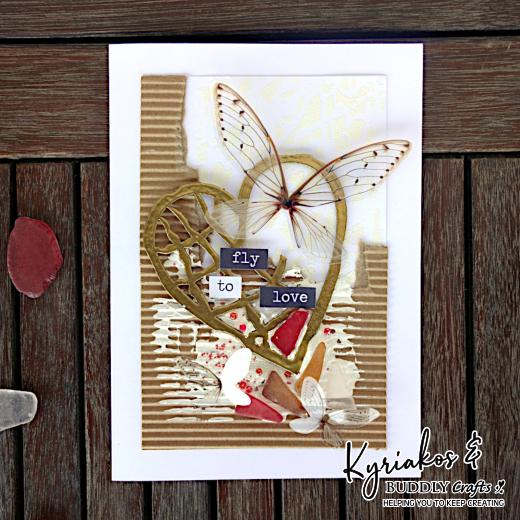 Make a mix media card combining a pre-cut greyboard heart, structure paste, sea glass, mini beads and transparent butterflies.

Press the heart shape onto the VersaMark ink pad, cover with gold embossing powder and heat set.

Using a 9 x 10cm piece of white cardstock, a sponge dauber and the VersaMark watermark ink pad, dab the stencil design. Cover with white embossing powder and heat set.

Cut a 4 x 6 inch piece of corrugated card, tear it from the right top to the middle side to make an opening large enough to show the previously embossed white paper. Turn back the sides of both papers and set the white embossed paper to cover the opening on the corrugated paper. Set double sided tape and place it on the card base.

Cover the middle of the corrugated paper with structure paste.

Set the greyboard heart and place little pieces of the gathered sea glass.

Continue by adding small beads, the butterflies and the sentiment.