This gorgeous little box is not only the perfect place to keep your treats, it's also a great project to try out free-hand machine embroidery.
Construction
1. Prepare your background fabric by drawing around the glass insert supplied with the wooden box. Place to one side.
2. Trace the 'Sweets' pattern pieces onto the Bondaweb and then iron onto the wrong sides of your fabric scraps. The pattern has already been reversed for you, this is so that the writing will read correctly when finished.
3. Cut out the appliqué pieces and, using the guideline you drew earlier, fuse into place centrally on the background fabric.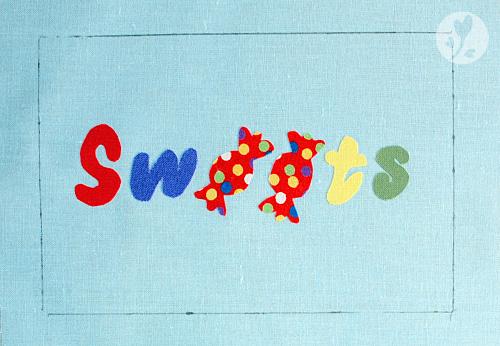 4. Machine around the appliqué pieces in black thread giving the embroidery a 'sketch-like' feel. Don't worry if your sewing is a bit wobbly as this adds to the overall effect of raw edge appliqué!
5. Cut out your finished embroidery using the marked outline and then stick into place on the wooden backing blank supplied.
6. Pop into place behind the display glass and secure into position using the fastenings which are already screwed into the underneath of box lid.
7. Fill your box with tasty sweets and treats!