Quickly and easily paint, stencil and decorate chipwood boxes for homemade sweeties. I've made this little box with a tartan theme for my husband's Scottish Tablet (recipe below) but you could very easily adapt the colours and decorations to best showcase the sweeties or cookies that you like to make and give.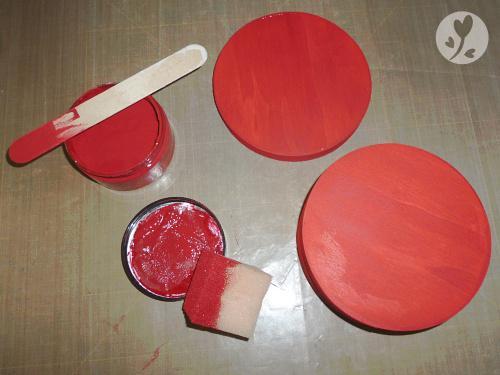 Lightly sand the chipwood box and using a sponge, paint the outside of the chipwood box with red chalky paint. Leave to dry about 5-10 minutes. Clean sponge.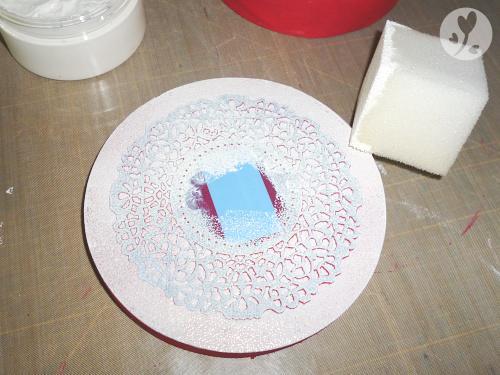 Position the doily stencil on the lid of the box and use a sponge to lightly dab white chalky paint through the stencil. As this is a small, manageable stencil it's not essential to tape it in position, just hold it in place as you work.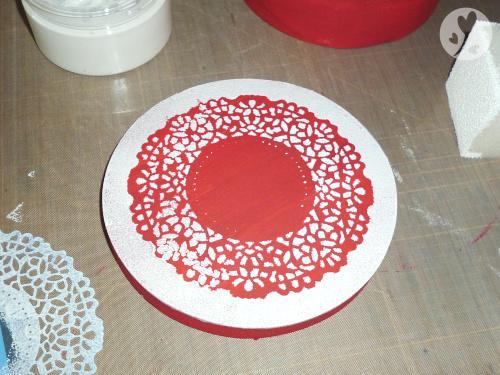 Remove stencil and clean.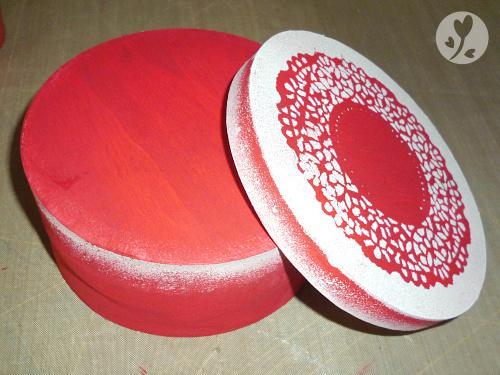 Sponge white paint sparingly around the bottom edges of the box lid and base. Set aside to dry. Clean sponge. When paint has dried thoroughly lightly sand all painted surfaces.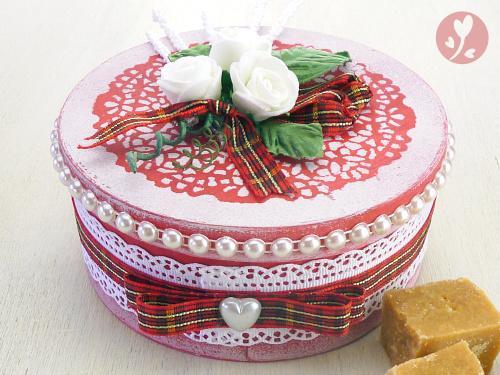 Decorate the sides of the box with ribbons and pearls. Add a floral embellishment to the top of the box.
Cut two large circles of tissue paper and place them in your box. Fill with sweeties and gather edges of tissue paper together. Secure with a round sticker.

Alex' Homemade Scottish Tablet Recipe
125g butter
1kg granulated sugar
250ml whole milk
½ tsp salt
350ml condensed milk
½ tsp vanilla extract
Grease a shallow tin approximately 25cm x 35cm.
Melt the butter slowly in a large, heavy-based pan (pressure cooker pan is good) over a low heat.
Add the sugar, stir in with the butter and then add the whole milk and salt and stir until the sugar has dissolved.
Bring to the boil stirring continuously over a fairly high heat for eight minutes.
Add the condensed milk, stir well, then turn the heat down and let it simmer for about another 10 minutes, stirring occasionally.
Turn the heat up for the last 5 minutes and stir vigorously and continuously.
When the stirring reveals the bottom of the pan its nearly done and start testing at this point.
Dribble some of the mixture on to a cold saucer. Leave for a couple of minutes, and if it sets, it's done.
Take off the heat, and beat vigorously with the wooden spoon for about 10 minutes if done manually, less (and easier) with electric beaters, until thickened but still pourable
Pour into the prepared tin and leave to set.
Score into squares after about 15 minutes.