We've been very happily recommending and selling the highly popular and easy to use Pearl Maker Pens for the past five years with no reported problems. During a particularly cold spell of winter weather a few weeks ago, we received news from a customer who, upon receiving the ordered pens was disappointed to discover that some of the pens weren't performing as they should. Instead of creating pretty domed pearl drops the results were described as, "tube like and forming a peak".
In our experience the appearance of any little unwanted 'peaks' on the pearls have usually been an early warning sign of an air bubble inside the pen and a good time to stop working on the project and clear the bubble before the air bubble releases itself and spurts out when you least expect it to! Our first recommendation therefore was to push through any air bubbles by working on a scrap piece of paper and making pearls until a little release of air and paint is noticed after which the pens should work perfectly. This was duly tried and we received the photograph below showing us the results. We were amazed to see what was happening and dumbfounded as to what could be making the paint behave so out of character and looked forward to receiving the products back so we could issue a refund and thoroughly test the pens.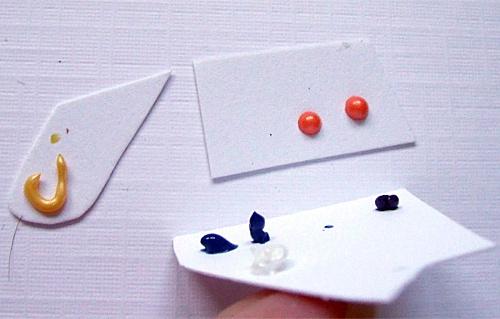 When the pearl pens were delivered back to us we noticed how cold they felt after being in the postal system and left them to warm up for a few hours before testing them. The results surprised us - the pens were behaving far better than we anticipated with eight of the pens performing perfectly and the other two making very acceptable rounded pearls albeit with a tiny little peak, so not 100% perfect just yet but far better than the results shown in the photo above. A few days passed, the paints were well climatised now and we tested all of them again and this time all ten pens were performing exactly as they should as you can see in the photo below ... yes, these really are the self same pens! Is it possible the cold weather during transit could have affected them?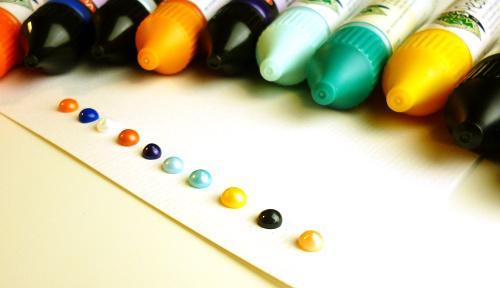 Thinking back a few years, when I previously crafted in a small wooden cabin, I remember a week when all of the heating had been turned off and the temperature plummetted. I later discovered that this sub zero drop in temperature had rendered my large pot of bookbinding and other glues beyond use. A similar 'cold weather' effect also happened to me when I received my Making Memories Slice Electronic Cutter - the wintry weather during the shipping time prevented me from being able to craft with the machine the same day it arrived. The next day after the Slice had warmed up, it worked perfectly and has continued to do so ever since.
Here at Buddly Crafts we are very careful to maintain safe storage temperatures and humidity for all of our craft supplies but it's easy if we're crafting in a cabin or receiving goods during a cold spell to forget how temperature fluctuations can sometimes affect product behaviour. Remember to keep an eye on your craft studio and workshop temperatures in the winter as acrylic and emulsion paints, latex glues and electrical goods really don't like it if they get too chilly.

Viva Decor manufacture two different types of pearl making pens. We stock the Perlen Pens for you which are available in a wide choice of colours. These pens have been formulated for use on papers, wood and washable fabrics and are super for decorating cards, bags, fabrics, boxes and much, much more. We don't stock the slightly cheaper Paper Pens which are almost identically packaged, not available in as many colours and only suitable for use on papers and cannot therefore comment on how they might be affected by low temperature. Viva Decor also make 'Private Label' products for businesses who prefer to sell the products under their own company names so if you've got other brand pearl pens that look similar to Viva pens be sure you know which type of pen you have before applying to fabrics or wood.
Shall we continue to sing the praises of the Perlen Pen ... you betcha, it's a must have for all crafters!
We'd love to hear from you - If you've experienced a characteristic change in a craft product that you believe may have been caused by cold weather please share your experiences with us below.